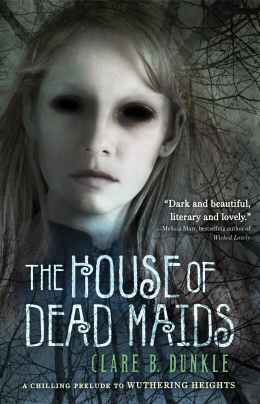 I'll admit it, I really wanted to read this book because of the title and that cover photo. Those dark eyeless sockets really called to me. Spooky! And the branches in the background? Double Spooky! As far as I can tell, there were no forests or branches in this story, but luckily there were plenty of black eyeless sockets!
So yes, the story is really kind of scary. Tabby lives at a knitting school (was there such a thing? Maybe it was like a workhouse for orphaned or disadvantaged children? ) and is hand selected to be the new maid for a grand house. But when she gets there things just don't seem right. The house is filthy. There is no master. And there is the cold, wet girl who gets into bed with her at night. Tabby soon figures out that the maid before her died and is now haunting her. When the young master arrives, he soon sees other ghosts as well. The young master turns out to be Heathcliff, from
Wuthering Heights
fame, as a young child.
I knew this was a prequel to Wuthering Heights, a fact which actually serviced to confuse me more than I'd like to admit since I didn't fully read the publisher description (as is my habit). I've read
Wuthering Heights
, but it has been a really long time and to be honest I don't remember too much about it. So I spent a bunch of time thinking Seldom House, the place where they are living was somehow related to the
Wuthering Heights
house…which it is clearly not. I was also a sort of thinking this was a retelling or something…which it is also clearly not. I think I might have been better off not knowing the
Wuthering Heights
connection and then slowly becoming aware of it as I read. The author's note is excellent and really might have been enough connection between the two novels.
If I have one complaint, it is that I wish the book had been longer so that we could have explored that freaky house a little more. I would have loved to know more about the history of the rites (like why did they keep touching Tabby with metal?), more about that wacked out village, more about how the old maid became the old maid, and so on and so forth. I did enjoy it and read it in a couple hours, but in this case a little more would have been better.
=====================================
Book Source = ARC provided by publisher