Well, this continuation is mostly manga. But those who know me won't be too surprised.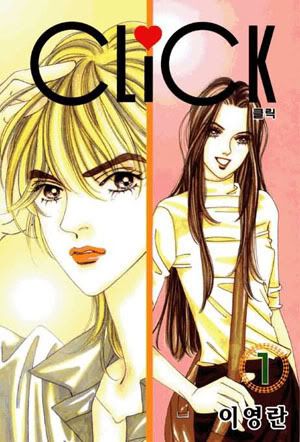 Click
is the story of a boy, who awakens one morning to discover a terrible secret about his family: when they reach puberty, they change gender! Joonha has always been a chauvanistic and proud boy, but when he finds himself suddenly female, he must move far away and cut off contact with his new girlfriend and his lifelong best friend. Now Joonha is a tough girl in a new high school, just trying to make it through without attracting too much attention. Unfortunately, neither her own nature nor her former friends are willing to let that happen.
Next was the newest volume of
The Wallflower
by Tomoko Hayakawa. I have been reading this one for awhile and it has recently been made into a anime, which I am looking forward to watching. Four beautiful boys have made a deal with their landlady: they can live in her fabulous mansion rent-free if they can turn her neice, Sunako, into a lady. Simple, right? Wrong! Sunako loves nothing better than horror/slash movies and hiding in the darkness. She is often mistaken for a ghost (or the girl from
The Ring
of the same name). She is dark, socially awkward, and not pretty, and that is exactly the way she likes it. Can a cutie pie, a brain, a ladies man, and a dangerous boy change Sunako? Or will she change them?
This is a really funny manga, strangely drawn in a style I don't normally like. But you can't help but root for Sunako and start to realize that the boys are more than just a pretty face. I was addicted after volume 1.
Now two new ones for me: The Day I Become a Butterfly and Seduction More Beautiful Than Love. Both of these are more adult books, but might make a good addition to an adult GN collection.
The Day I Become a Butterfly
by Sumomo Yumeka is a collections of short love stories. These stories vary from typical sappy romances to quirky homosexual relationships. Don't get me wrong, there is no nudity or anything truely offensive. This book was definitely written for romantics, with kissing and handholding as the main goals. It just covers a wide spectrum of relationships. I really enjoyed the title story, about a boy (actually even I had trouble telling this one was a boy) who is dying, but also happens to be falling in love with another boy who is rumored to be able to sense death. The art style for all of the stories is soft and quite beautiful. It adds to the sentimental nature without being overly saccharine.
Seduction More Beautiful Than Love
by Lee Hyeon-Sook appears to also be a love story, if an unconventional one. Daoun is a young first-year high school teacher, trying hard to reach her students. Ryumin is the local "prince charming" with a bad attitude and a crush on his teacher, Daoun. Enter Hyuwoo, a new teacher who went to school with Daoun and has always had a crush on her, too, and we have a love triangle of the most scandalous sort. Which handsome man will win over Daoun? And will her choice destroy her?
Okay, I admit, I did pick this up for the scandal. But the story is pretty intricate and could be good. I've only read vol. 1, so we'll have to see. But it can definitely be a guilty pleasure!
Speaking of which, I also picked up the new Anita Blake book with my birthday money.
Blood Noir
by Laurell K. Hamilton focuses on Jason the werewolf, one of my favorite characters. Jason's abusive father is dying and he needs to bring a girlfriend home to prove he is not gay. Unfortunately, he just broke up with his girlfriend; so, Anita offers to fill the position for a weekend visit. To Asheville, NC!!!! I am thrilled that one of my favorite LKH characters is from a place on two hours away from where I grew up.
Anyway, sounds fairly simple for Anita's world, right? Well.....throw in a wedding where the bridegroom just happens to be a ringer for Jason, staying in the same hotel, and the confusion abounds. Oh, and the bridegroom's father is the governor of the state and a presidential hopeful. And someone wants to kill him. So, now Anita is not only dealing with emotional baggage, but also the very real threat of someone trying to kill her best friend. It was fun and very much an Anita Blake story. So if you are an LKH addict, enjoy!!
Well, I am still not done. But these are the most adult things I read over my vacation. I will continue will the rest later. Sorry, I seem to be hogging the blog. Just read a lot of new stuff and feel like sharing.