So I had a lovely vacation. Full of get-togethers, my brother's wedding, not enough relaxing...but it was one of the best trips home I've had in a long time. I also did some reading so in brief here's what I read and what I thought. It's in order of being read.
Genesis Alpha

- Rune Michaels
This started out pretty strong. A teen boy who's always looked up to his older brother is floored when his brother is arrested for a vicious murder. Lots of gaming action, veers into the realm of science fiction about half way through. I had the plot figured out pretty early on which made this short book seem a bit long to me. There were some good plot twists, but it didn't stand out for me.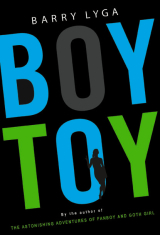 Boy Toy

- Barry Lyga
Wow. This wasn't what I was expecting at all. This is a lot different than
Fan Boy and Goth Girl
. This was a serious book about a boy who is sexually abused by his teacher. Fast forward 5 or so years and he's about to graduate from high school and his abuser has just been released from prison. It was a heavy book that was really difficult for me to read. I had to keep putting it down. Really well written, but I'm glad I'm finished with it. This one will be great for kids looking for abuse survival stories. I don't really like the cover or the title though. It isn't selling itself as a serious story and I fear that people won't like it because they'll pick it up and expect something totally different.
The Keep

- Jennifer Egan
A dark gothic book. I hated the main character for most of the book. I mean Danny was fun to read about, but I kept thinking, "What a complete loser asshole." When he was a kid, him and his older cousin left behind an unpopular cousin in a cave. He found his way out 3 days later on the brink of death. Fast forward into their late 30s early 40s and the same cousin has because a millionaire, bought a castle, and extended Danny an invitation and plane ticket to join him there. The castle is in disrepair, there is a strange old woman who lives in the castle keep and won't leave, and there are very strange things going on. This was amazing.
A Woman in Berlin

- Anonymous
A diary of a woman in Berlin at then end of WWII as the Russians enter the city. This is a frank account of the bombing, the take-over of the city by the Russians and the mass rape of the women who were left largely unprotected in the city. It made me hope that I'm never ever caught in a war zone.
Falling Boy

- Alison McGee
A book about a boy who has to come to terms with why he's in a wheelchair and the group of kids that help him come out of his shell. I didn't like this one nearly as much as her
All Rivers Flow to the Sea
which was a lyrical and beautiful book about sisters and grief.
The Eyre Affair

- Jasper Fforde
Yay! Just as fun as the first time I read it. I ran out of books and needed something to read on the plane ride home and I went into the airport bookstore looking for this. And, miracle of miracles, it was actually there. I laughed maybe even more than the first time. I wish I had more time so that I could read all the rest in the series right away. It'll have to wait which makes me sad.
And I was lucky enough to catch the
PBS production of Murder at the Vicarage
one night and it was wonderful. I want to watch all the Miss Marple mysteries where Geraldine McEwan is Miss Marple. Fabulous. Sadly they are not on netflix. Only the old series is and I don't like that Miss Marple.